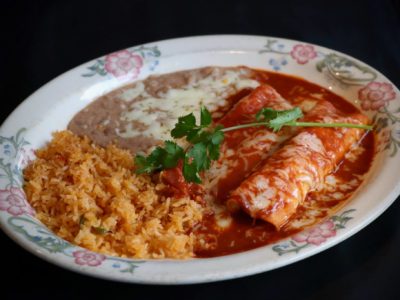 This is my go to recipe for enhilladas. It's messy but worth it.
4-6

10 minutes

20 minutes
Ingredients
1 small onion, chopped (about a cup)
2 small cloves garlic, minced
12 corn tortillas
1 large (19oz) can of enchilada sauce
Grapeseed oil, peanut oil or canola oil – a high smoke point vegetable oil
2-3 cups of cooked chicken, shredded or chopped
1 can black beans
1 small can diced green chilies
Salt
Directions
Follow This Recipe
Preheat the oven to 350°F.

Dice chicken and onion and 1/4 cup of sauce in a pan.

Saute until cooked. Set aside in a bowl.

Open black beans, cheese, chilies and enchillada sauce and set to the side by the chicken.

Prepare a 9x13 pyrex or pan by placing it next to the stove and near the other ingredients.

Prepare the tortillas. Heat a small light skillet on med-high heat. Add a teaspoon of oil (high smoke point oil as indicated above, we use grapeseed oil) to coat the pan.

Dip a tortilla in the sauce to coat the tortilla with sauce on both sides. Place the tortilla in the skillet and heat for a few seconds, until the tortilla gets warm. Use a spatula to flip to the other side for a few more seconds.

Lay the tortilla in the pan. Place a couple spoonfuls of the chicken mixture in the center of a tortilla, add some cheese, chilies and beans and roll it up. DO THIS IN THE PAN.

Repeat steps 7 & 8 until all of your tortillas are neatly placed in rows in the casserole dish.

Cover the tortillas rolls with the remaining sauce. Sprinkle with the remaining grated cheese.

Cover in foil and place in the oven and cook for 20 minutes, or until cheese is bubbly.

Remove foil and bake for 10 more minutes

Let cool for 10 min before serving. Protips

This is gonna be messy. Read step 7 carefullly before you start. I don't even use a spatula at this point and just pinch the tortilla between my forefinger and thumb and flip after a few seconds. – This is dangerous, I don't suggest it…I'm just telling you, that's what I do. Use whatever works best for you.

These are chicken enchilladas but as with most mexican food, the protein is negotiable and I have used, just beans, carnitas, steak and even tofu before. All good.
More delicious recipes
This is one of the many fantastic recipes available on this blog