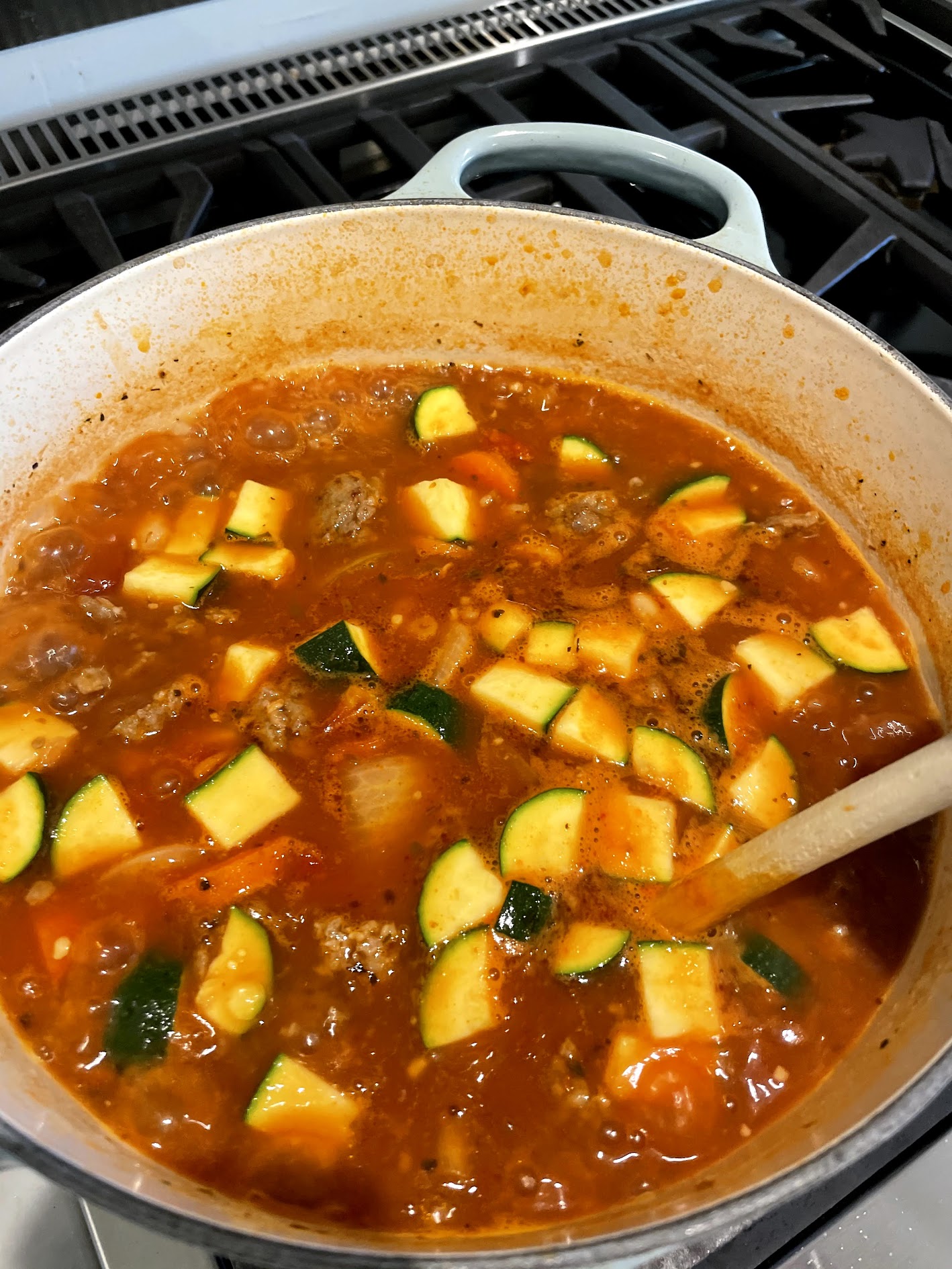 For Christmas this year my family decided to make gifts for one another. My gift included all of the family soup recipes. I came across this minestrone soup recipe and though I've never really favored this soup, I thought I'd give it a try. I'm beyond glad that I did! It was rich, broth-y and filling. I loved it and you will too!
4-6

15 minutes

30 minutes
Ingredients
1 lb. of Italian bulk sausage
2-3 stalks celery diced
2 onions chopped
2-3 carrots sliced
2 cloves of garlic minced
1 28oz can of italian diced tomatoes
2 8oz. cans tomato sauce
2 Tbs parsley flakes
1 bay leaf
1 tsp. basil
1/2 tsp. oregano
2 cans beef broth
1 tsp. salt
1/4 tsp. pepper ———————
2 small zucchini sliced
2 cups finely shredded cabbage
1 can great northern beans (or cannellini if you prefer)
1 cup uncooked macaroni noodles
Parmesan cheese
Directions
Follow This Recipe
Begin by browning and draining the Italian bulk sausage.
Place browned sausage in a large stock pot with 3 cups of water on high heat.
Boil for 8 minutes then add all of the ingredients above the dashed line.
Reduce the pot to a simmer and cook for 1 hour (or as much as 6 hours).
After the hour add the rest of the ingredients and the noodles.
Simmer for 1/2 hour more or until macaroni is cooked.
Serve with Parmesan cheese and a good bread.
ProTip This recipe makes a ton of soup and it's a filling soup at that. Luckly its a soup that freezes very, very well. Put any extras in a tuperware in the freezer. When ready to reheat, put it in a stock pot and add a little water on med heat. It will defrost nicely and taste wonderful.
More delicious recipes
This is one of the many fantastic recipes available on this blog